Posted on
September 3, 2021
in
The Way To Be Safe Is Never To Feel Secure – Accusonic
Too much dependence on last minute jugaads and little consideration for safety of operations has exposed a very ugly side of Indian style of management (or rather lack of it). In case of industry, the soaring demand from domestic and export market has been the cause of mishaps. Today, all new projects (greenfield or expansion) have extremely aggressive targets for their completion, often resulting in heavy compromise on safety and quality of work.
In all this aggression, the people who suffer the most are the ones who are actually at risk – the contractors, workers and teams on ground.
The best solutions are simple!
Prashant Deshpande, Managing Director of Accusonic Controls Pvt. Ltd. shares an interesting solution in this context observed during his visit to a UK based client:
"The site was typical, it had all the pressures and challenges faced by almost every new project nearing completion, work was being simultaneously carried out by multiple electrical contractors on the same electrical Feeder. In such a situation it is difficult to keep track of people doing electrical work and co-ordinate electrical supply accordingly. However, a simple system here ensured safety for everyone."
How does an "Arc Flash" occur?
The system ensured that electrical supply will NOT be 'live' suddenly as the team works on last minute problems. This simple system was extremely helpful in ensuring safety of all personnel working on the line while reducing the time wasted in tracking and coordinating with individual contractors.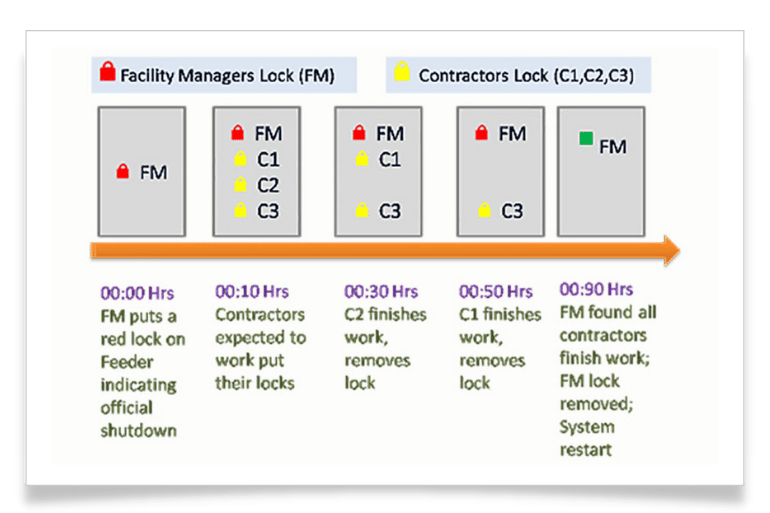 Here is a link to the video elaborating on the 'lockout – tagout' system: https://www.youtube.com/watch?v=CV6BDf40yZg
Indians and processes
Have you thought – what do we need to do to make things work in India? Grafting systems, processes directly from US, UK, Germany or Japan is not always the best option.
On a tour to any developed country, one experiences the benefits of following rules and the instant penalties for breaking them. Having done that, we are quick to blame the police or government system in India that makes many rules but ultimately fails to implement them. So, what is the use of having rules that are not followed?
Your discipline and habits affect safety of people and equipment at your work place. Make sure you discourage every violation of rule around you with a strong message and action. One needs to take a stand and stick to the rules for systems and processes to work in India.
Safety and GOD!
Observing another interesting behavioral trait in our approach to standard systems or rules, a senior safety audit professional from steel industry quoted an interesting example:
In a Japanese factory when a worker was injured on the extrusion line, as a conveyor carrying the hot HCR rolls fractured, co-workers voluntarily adopted some add-ons for their PPE (Personal Protection Equipment).
In case of a similar accident in India, co-workers blamed the accident on bad fate of their injured friend. They believed it was his bad time as he was wearing all the PPE but even then he had the injury…. "What can one do before god's wish?" ….Was the final argument!
Rather than using systems closer to their hands the Indian workers were more inclined to keep their faith in god. Clearly, culture, beliefs, religion etc. plays an important role in how we react to situations.
Well, we conclude with the quest of how do we use our culture, beliefs to get people to value, respect and adopt safer practices and behavior? Is designing safety practices that are based on religion/culture a solution in India?
Related posts